Food for thought, food for the soul, give your spirit a break.
Most of us are so busy and stressed, we 'can't see the wood for the trees'.
We feel compelled to keep chipping away at the seemingly never-ending list of jobs and never give ourselves a proper break to see the bigger picture of where our life is going.
Attending a 'Breathing Space' weekend is the perfect opportunity to 'sharpen your axe' and enable you to take stock of what you'd like to improve in your life. Give yourself a well-deserved break from the 'busy-ness' of life and discover powerful techniques to accelerate your progress.
We are very excited that our 'Breathing Space' weekend will take place at 'Blissland',  an amazing venue, and an  experience in its own right. Click here for more details about Blissland.
During the weekend in this delightful Cheshire property we will be offering various activities that can be enjoyed by all, regardless of age, health or ability.
Come and try some Chi Kung, mindfulness practice, Yoga, Creative Visualisation and relaxation techniques.
There will also be ample time for peace, meditation, walking, reflecting, sharing moments with like-minded people, and enjoyable social evenings!
Massage sessions,  tailored to your needs will be available, to be booked in advance.
We also have a Reiki practitioner on our team, who will offer this if required.
 At the end of the weekend, we hope that you will be able to take away some of these techniques to help you deal with stress and restore peace in your daily life.
The programme will run from Friday (29th September) 3 pm for welcome and introductions, until Sunday (1st October)  3 pm.
We are able to offer some very comfortable accommodation  at Blissland, first come, first served! (please see fees and details below).
There are also B&B and hotels nearby in Congleton.  These are all listed on Booking.com.
If you have any questions about the Breathing Space weekend please contact us
Where and When
A more detailed programme and other relevant information will be sent nearer to the date.
Blissland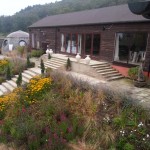 September 29, 2017 - 3:00 pm to October 1, 2017 - 3:00 pm
Blissland
Congleton
CW12 3NA
More details about the location can be found here
Course Code : BSW170929
Fees
What is included:
For people staying at Blissland, the fees quoted include all activities, accommodation on Friday and Saturday nights, dinner on Friday and Saturday, breakfast and lunch on Saturday and Sunday.
 All meals are vegetarian.
Double room with ensuite bathroom, king size bed:   

 

single

occupancy £275 per person, 2 people sharing : £225 per person

Double rooms (3 available) , shared bathroom

  

 single occupancy £245 per person, 2 people sharing : £210 per person


'The Pod'  (Quirky and comfortable accommodation, suitable for groups or for a truly unique and indulgent weekend for two.  Bedroom with a very large circular bed, large living room with kitchen which can easily accommodate several people willing to bring their own bedding), bathroom ):   £200 (accommodation). Add £175 per person for course, activities and meals etc. as described above. 
For people staying elsewhere than at Blissland, the fees will be £175 to include all activities, dinner on Friday and Saturday, breakfast and lunch on Saturday and Sunday and refreshments throughout the 3 days.
Not included:
Massage (this will need to be booked in advance, at the time of booking the weekend and will cost

£15 for half an hour and £25

for

an hour

session).

Partners are welcome also, even if they do not wish to participate in the activities. In this case the fee per non- participating partner sharing a room at Blissland with a course participant will be £50 for the 2 nights and meals (as above).